The Hikers - Alan and Chummy
Alan and Chummy have been toying with this idea of hiking along the beach from Cape Point to Kosi Bay for a few years now. Right from the time of being scouts together it had always been a dream of theirs.
Between life and work commitments, it looked like it would never happen, until a few years ago when Alan started making noises about getting this epic walk underway.
A number of planning sessions and emails passed between them (along with one huge planning spreadsheet!) and now they are off hiking the beautiful South African coastline.
Alan teaches in KwaNgwanase, which is in northern Kwa-Zulu Natal.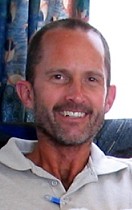 Chummy lives and works in the Wilderness, just outside George in the Western Cape.
13 Responses

By Amanda van der Westhuizen on Jan 29, 2009

Dear Alan, Brenda has sent me the details. Well done you two!! Wish I could join you, Gauteng gets a bit much from time to time. Al the very best. Enjoy God's country. Love


By Russell Tinney on Feb 03, 2009

Why are you guys so slow ? Have you checked for rocks in your backpack, Alan ?


By Betty Ashley-Botha on Feb 04, 2009

Hi hope you are having a wonderful time! You must be doing a lot of swimming!It reminds me of the Otter Trail.

Web page vey fasinating.

God Bless
Betty and Bunny


By Gavin Selfe on Feb 05, 2009

Go lads, the whole of East Park is watching and supporting you.
Gavin


By Christopher Killerby on Feb 06, 2009

Hi Mr Stuart! Just to let you know my mother lives almost on the sea-front in Gonubie (near East London) and I am sure she'd love to give you guys a good meal if you fancy stopping en route... What a great thing you are doing!

best wishes


By Robert Ella on Feb 06, 2009

Chummy,this is a very special thing that you guys are doing and I know that it will also inspire alot off people,I for am one of them.Could you please post more pics of the locals you meet so that people here in Oz can see how basic they really do live and how much we can live without.Hope the sand stays hard and the wind from behind.


By Basil and Joan Scott-Hayward on Apr 09, 2009

Hi Allan and Chummy,
We are at Trafalgar, ouw holiday simplex, north of Wild Coast, returng to JHB on Sunday.
Wonderful to hear what u r doing. Grant, our youngest,in Melbourne, sends regards as well. Enjoy an experience of a life-time. Our travels are strictly by air or car. But we love the outdoors. May the Lord richly bless you. Keep it up and don't flag.


By Derek and moira on Apr 17, 2009

Hi Allan and Chummy
We are Brenda and Mark Hallowes (PE)friends from Uvongo, South Coast.
Hope all is going well.
Are your plans still
to spend a night with us when you get here? Look forward to hosting you.
Let us know.
Go well!
Moira


By Lynn Forbes on Apr 20, 2009

Dear Alan and Chummy,
Well done to you both - and reaching the half-way mark is fantastic. Go well, take good care and enjoy every minute - what a wonderful way of seeing our amazing coastline.
Best wishes to you both and God bless.
Love from the Forbes family.


By Willie on Apr 24, 2009

See you in Kosi. When will you be here? I have beds at my lodge for you and family that is coming up to see the finish.

http://www.maputaland.net
mail at maputaland.net


By Marike on Apr 26, 2009

Dear Chummy
Well done, you guys are doing GREAT!!! Enjoy every moment with Jesus as your teammate!
I miss you alot!
Just 4 Jesus***
Your little friend
Marike =)
( <3 )


By John on May 14, 2009

Good-on-yer-mate. I was chatting to your daughter last night and she told me that you were still w-a-l-k-i-n-g and pointed me to the website. Great photos. Easy to read diary. Wonderful to see you not just dreaming dreams but living them. Best wishes from New Zealand.


By Carol on Jul 12, 2009

Hi Alan and Chummy,
well done on completing your journey! Do you wander (?) what to do with yourelves every morning now?
Regards
Carol